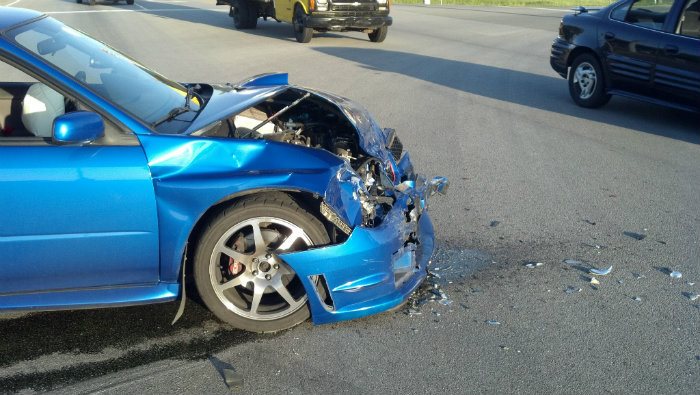 Every story has a beginning.  Sometimes that beginning is very discrete and other times it's such a long time in the making that it's possible to identify several different beginnings.  It's hard to pinpoint a single event, place, or person that was the start of Zero Decibel Motorsports.  So many different people, events, hobbies, and even classes in school led up to where I am now.  If I had to pick a single defining moment though, it would have to be the Tuesday after the 2012 Indianapolis 500.  A lady driving a white 4 door car ran a red light and was subsequently T-boned by my blue 2006 Subaru WRX as I drove home from work.  After running to the car I had just hit to make sure they were OK, I called my wife and left a message, got phone numbers from a few witnesses, and tried to stop my hands from shaking with all the adrenaline rushing through me.   As I looked back at my smashed car sitting in the middle of the intersection my first thought was "wow, this is embarrasing, I bet everyone sees that hood scoop and big exhaust and assumes I'm some irresponsible kid, that this was all my fault, and I hit this poor woman and wrecked her car".  My second thought was "you know…this would be the perfect donor car for a Factory Five 818.  Good thing you turned the motor off to make sure it would still be good".
To give so much credit to a single event really does no justice to all of the small, and large, influences leading up to what eventually became Zero Decibel.  As a child some of my favorite toys were my legos (lots of cars, trucks, and boats), micromachines (I told my parents that one day I would own a real white Lamborghini just like my favorite toy, not knowing what they truly cost), and hot wheels (a hobby I still have today).  As I got older I wanted a cool car (to offset my exceeding uncool 88 Pontiac Safari 6000 station wagon) but didn't want a Camaro, Mustang, or other common domestic car.  It wasn't until The Fast and The Furious came out (yes, that Fast and Furious with the two big bottles, tuna sandwiches, 10 second cars, 40 weight oil, showdowns in the desert, and more than you can afford pal) that I was first introduced to the tuner world.  An entire culture existed that revolved around making average cars and not so average import cars into race cars (or at least race car wannabes).  I didn't even know cars like S2000's, Supras, or RX-7's existed prior to that movie.  As I went to college and experienced cable TV for the first time I became hooked on shows on Discovery, History, and Speed channels where I marveled at the creations people fabricated in shops around the country which just fueled the fire that Fast and Furious started.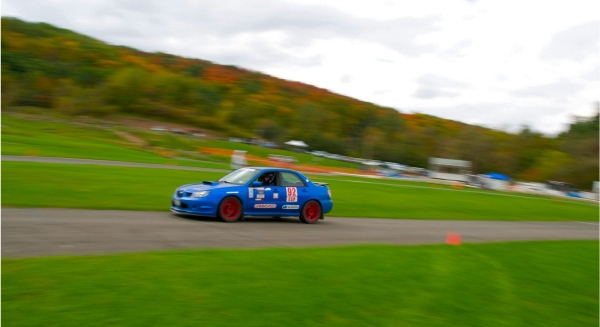 Fast forward a bit, I had finished college, purchased a WRX and, not quite 8 months later, April of 2007 found me just starting out in autocross with my 2006 WRX thanks to the CNY Subies crew.  The bug bit, and it bit hard.  I learned how to work on cars to make them faster and to fix the things I broke.  A spun bearing quickly took me from timid bolt-on DIY tinkerer to full on "I can fix anything…or at least try" mode, though I was still reluctant to design my own parts.  I had it in my mind that the tuner companies out there all had some magical knowledge that couldn't be obtained by individuals.  I stuck with heavy duty maintenance but limited my custom work to  simpler DIY mods.  My second year autocrossing I managed to cinch the overall year end PAX title for CNY SCCA and my passion for racing, making things, and going fast continued to grow (there are several courts of law in a few different states that can attest to my desire to go fast).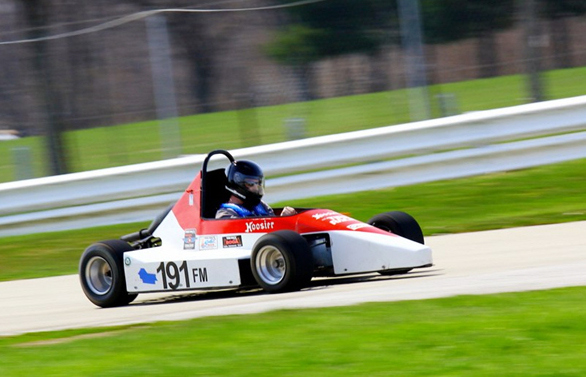 Moving forward in time, I made the move from Syracuse, NY to Indianapolis, IN in 2009 and,  in 2010 I picked up a Formula 440 to replace my WRX as a dedicated autocross car.  I had test driven one and everything else was suddenly too slow.  With Fmods you don't exactly buy parts off the shelf and bolt them on.  You make them, or find someone to make them for you.  It was sink or swim.   I decided to try my hand at car part design.  Component design wasn't something new to me.   I graduated from RIT with a master's degree in mechanical engineering and designed components and assemblies for a living.  Something about car parts still struck me as a fantasy off limits arena.  Through a few chance happenings I was able to get complete unrestricted access to a couple of CNC's.  It was a dream come true.  Years of being able to design anything in CAD and having no way to physically manifest the parts finally led to infinite opportunity.  After thumbing through a few manuals I timidly setup a piece of foam and tried my hand at making complex parts.   Before I knew it everything on my Fmod was no longer a part waiting to break, but an opportunity to go faster, handle better, and look better at the same time.  There was something intriguing to me about knowing that I was skimming three inches above the ground held up by parts I designed and machined myself.  A failure didn't just mean "oops" it meant not finishing an event, embarrassing yourself, and potential causing some bodily harm.  You know, all the things that get your adrenaline pumping.  Having fully overhauled my car in 2013, swapping to newer and stronger 500cc motor, and redesigning and machining many components on my car, I would go on to eventually win the Indy Region year end PAX championship in 2014.  I don't just like to make parts, I like to win too.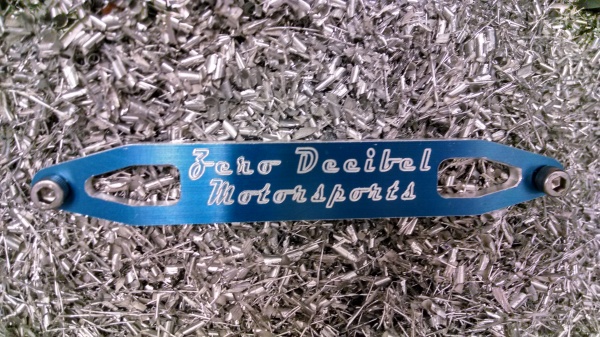 After my accident in 2012 and the subsequent delivery of my 818 kit car in August of 2013 I turned my sights from my F440 converted to F500 autocrosser to the 818.  With a solid foundation at a deal of a price I looked for ways to improve and customize my own car.  Pretty soon I had requests to sell this or that component.  At first I was reluctant.  I wasn't sure if there was enough interest to justify the work involved in setting up a business, ordering parts from third party machine shops, keeping stock on hand, and bookkeeping.  In November of 2013 I decided to register Zero Decibel Motorsports, LLC with the state of Indiana and take the plunge.  I contracted with a third party machine shop and placed orders for 10 pieces of my coolant bracket.  They quickly sold out.  My second part, the oil fill tube and cap, proved to be almost as popular as the bracket and soon I was reordering more of those as well.  This was amazing!  People all over the US, even from Canada, Australia, and New Zealand, wanted to buy something I had designed.  Seeing people install parts I had made from all different geographical areas was pretty inspiring.  Now I had the opportunity to emulate companies like Kartboy, Turn in Concepts, and Grimmspeed who I had looked up to all those years.
Each of you should use whatever gift  you have received to serve others, as faithful stewards of God's grace in its various forms.